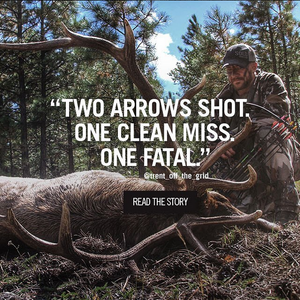 TWO ARROWS SHOT...
I don't care what anybody says. Nobody has as much heart as Mr. Trent Penrod. known as trent_off_the_grid to many of us and elk_assassins to most on Instagram. Trent is hardcore. And… a little crazy.
I've had opportunity to spend time in hunt camp with Trent. I know him personally and am pleased to call him friend.
Below his post and story on his elk, I will include an episode we did on SOLO HNTR last fall where Trent won the first ever SOLO HNTR Challenge.
-TIM BURNETT
Trent- OFF The GRID
#ChainsawCarving #HuntinFool #ElkWhisperer #MtnAthlete #FreelanceOutdoorVideographer #crazymountainman LOVES #God#Christ #Family and LIFE!
1076 miles on the Tundra over 86 miles on the UA boots 9 LONG days on the Enchanted Navajo Nation. 6 with my Eternal Companion. 3 Solo. Countless hours kneeling before my maker, praying for guidance and direction. Heard only 5 bugles. Sunup through sundown creeping through thick pinion pine bedding areas. Napping in elk beds. 4 evenings sitting wallows or water. 2 Arrows shot. 1 clean miss 1 Fatal. All night (9hrs) tracking job after a thunderstorm washed away all jump tracks and blood. 
---