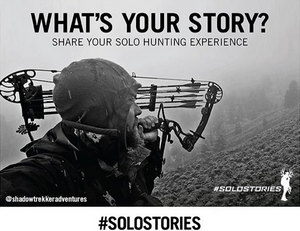 WHATS YOUR SOLO STORY?…
WHAT'S YOUR STORY?…  As Solo Hunters, we don't often have the opportunity to sit around the campfire with our buddies and swap hunting stories. We want to give you the chance to share your stories and adventures with other solo hunters.
Whether it's describing a close-call, a successful harvest, a particularly difficult pack out, or one of those scary experiences we've all had on the mountain alone, we want to hear about it.
Like @shadowtrekkeradventures you too can have your story featured by SOLO HNTR and we'll send you a FREE shirt and hat! It's simple. Just follow the steps below:
1) Post your story to your social media page
2) Use #solostories in your post
3) We're searching the hashtag regularly to find a story to feature
4) If yours is chosen, we'll feature it on our social pages and email
5) We'll send a FREE shirt and hat to the owner of the featured story
Start sharing now and dont forget to use #solostories
-TIM BURNETT
Charles Whitwam Hunter. Adventurer. Beauty Seeker.
www.youtube.com/c/shadowtrekkeradventures
3 years now I've hunted Idaho, solo filming along the way. I've either been wildly successful by taking my first elk, first mule deer or the hunt has completely wasted me; physically and mentally destroyed. It's that kind of place. It's also why I keep coming back. I don't want a draw zone, I don't want an easy hunt. I know what's in there. I know I can do it. (And probably just a bit easier if I wasn't trying to self film)
Scouring satellite maps in the off-off-season, recalling memories of now 3 years of learning this country and I'm just beginning. It's a journey that I'll take every September and although I always go in with a plan the great wilderness will generally remind you exactly who is boss. An example to that point is when a 60mph gust suddenly decides to flatten your wall tent while you're sleeping followed by 3 days of rain and snow. Beams snapped, guylines broke and I'm 14 hours from home. It's not just the steeps, swirling winds & chasing these wild elusive creatures that will test you. Nature doesn't heed your presence.
Not so much unlike the real world, you think you're getting ahead & new bills show up, your truck breaks down or you get laid off. Life comes at you from all angles. For me that's why I love the public land wilderness of Idaho. It throws everything at you. That's also what makes it even sweeter when you EARN your meat in such wild and fantastic places. The beauty is more often than not found in the pain, the unexpected and the rugged land these creatures call home.
The pic is related to my latest solo filming adventures throughout California & Idaho. The film is named Wild Soul. I left a lot out but to be honest I made it to cheer me up because man did I get my butt beat on this last outing! Enjoy & enjoy the sitar! #solostories
#bowhunting #hunting #hunt2eat #meateater #solohntr #wildernessathlete #blacktail #muledeer #elk #wild pigs #firstlitehunting #solostories
---