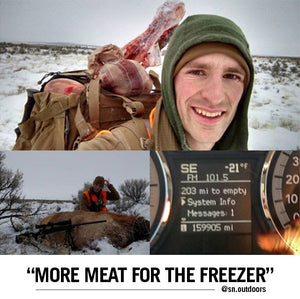 MORE MEAT FOR THE FREEZER...
Persistence is the key to success no matter what you are trying to accomplish. Tracking down an elk in frigid temperatures has got to be tough. Not to mention shedding your gloves to do the chore of field processing.
To be able to come away from an event like that wearing a loaded pack on your back and a smile on your face is something to be proud of. I love how @sn.outdoors  didn't focus on how tough the day was or how brutal the cold felt. You just here a story of action, success and getting the job done.
Great job CJ. We will be sending you the SOLO HNTR hat and T-Shirt of your choice for having your #SoloStories selected and posted. Thank you for the continued support of the SOLO HNTR way. -TIM
Cj Steffen
"The man on to of the mountain didn't fall there." ~Vince Lombardi
m.youtube.com/channel/UCPugZalytG9OBmNT-H9V_GA
Wednesday I realized there was still an any weapon elk season open in Idaho. So I decided to give it a try on Saturday. I'm very glad to have had the opportunity to get some more meat for the freezer.
I spotted this young bull early in the morning and followed his track for 4 1/2 miles before he came to a fence that was too much for his tired legs. He made me use every bit of my tracking knowledge to decipher his intentions. I got in front of him once, but he held up and let me get past him before continuing. He crossed my tracks twice.
After he saw me the second time he decided to head for the mountains and ran for at least 3 miles without stopping. When he came to the road he tried 3 or 4 times to jump the fence, but was too tired. He made it difficult to figure out where he went by backtracking, waking back and forth over a 400yd section of the fence, and leaving the fence in a few areas but coming back.
I worked his track by the fence for about an hour before I figured out which way he left. I knew he couldn't be far.
I took up his track and 600yds later spotted a set of ears in the sage brush. He spotted me and was planning his escape while I ranged him at just under 300 and readied my rifle. He was laying broadside and facing away when I settled the crosshair and squeezed the trigger. He stood up and ran about 50yds before I put another round into him. I could tell he was fatally hit, but I moved closer and find him off with a head shot.
When I walked up on the animal I was surprised to find out it was a male. He had one eye and a broken skull that put his unicorn spike flat on his face.
Also, it's tough getting solo pics when it's -15 and you only brought the cell phone.


Not a bad way to start my time here in Idaho.
---