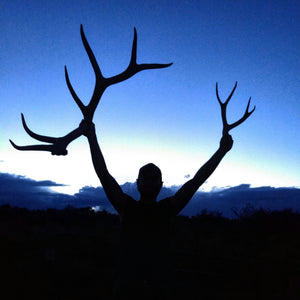 CRAZY ABOUT SHEDS... by Bryson Mackey
CRAZY ABOUT SHEDS
If you ask me one of the best feelings in the world that you can experience is walking around a tree and the first thing you see is the tines of a big ole brown elk or deer shed. That little spurt of adrenaline you get from that is one of the many reasons I shed hunt. That feeling never gets old.
I recently found a good sized brown moose paddle with my good friend Mason. Finding a moose shed s something I have dreamed about and wanted to find for a long time now. When I came around the bend and saw it laying there I about lost my mind! I haven't been that excited in a long time!
The memories I've made shed hunting are some I will never forget. Even though you don't always find any, it will still be a good time on the mountain with some good buddies or family. If you go solo like I do often, then it's a time to enjoy some peace and quiet in my favorite place.
ITS NOT FOR EVERYONE
Shed hunting is not for everyone. It takes patience, knowledge of the animals and their habits, good physical shape and a strong mentality. Some make it seem easy to find sheds, mostly because we only post pictures of our success. Most of us don't share the long days and sore feet, hiking upon miles weathering snow and rain only to not turn up thing.
There have been many times I wonder why I do it, exhausted and worn down thinking to myself why am I up here. But then that all changes as you see a shed laying in a little clearing or glass one up on the opposite hillside. That feeling of excitement and accomplishment is what keeps me going back.
A GROWING HOBBY
Over the years I've gotten more into shed hunting, and over the years shed hunting has
gotten more and more popular as an outdoor activity. As the market grows for antlers, more people shed hunt. Its pretty amazing to think about how something no one really cared to pick up let alone go out and actually look for 30 years ago has become the booming business and hobby it is today.
This shed season was a tough one, I ended up finding half of what I did a year ago. It was a rough winter so the Utah DWR closed shed hunting state wide from February to April. Waiting sucked but that wasn't the worst part. The worst was on opening day going out to spots we normally turn up a few in and seeing nothing but old boot tracks from dishonest people who didn't wait like the rest of us did. The closer was a good idea but all it did was keep the honest guys honest.
MEMORIES MADE
It still ended up being a really fun and memorable shed season. Found some good stuff, had fun and made memories! I hadn't found a moose shed until this year and I ended up finding 4 and a friend of mine matched one of them up! All were found on public land in Utah where you wouldn't really expect to find moose which was pretty cool. I also had some really good days finding deer sheds, had my best day finding sheds with my good friend Tanner where we ended up with 27 deer sheds in one afternoon of hiking! Got to make a trip to Nevada with a couple of my other friends Tanner and Dalton and we had a pretty good day with 21 sheds total in a new area we had never been to before, not bad for going in blind and only having a day to look around!
GRATEFUL
It's really awesome how many opportunities we have in the outdoors where we get to enjoy doing what we love and with others who enjoy the same interests. I'm very grateful for those opportunities and having so many people around me who enjoy hunting, fishing, shed hunting and being outdoors as much as I do. I am very lucky to have been raised by a family that loves the outdoors, hunting and fishing.
My dad and grandpa introduced me to hunting before I could walk, now I get to spend time with them doing what we love. Some of the best memories I have are shed hunting with my dad, I enjoy having him there and spending time with him. I can't wait to share all this with my kids, teaching them to hunt and fish is something I really look forward to in life.
-Bryson Mackey
Bryson Mackey
My passion from day one has been hunting!! Shed hunting, fishing and being outdoors are all close behind! 20 years old
---
1 comment