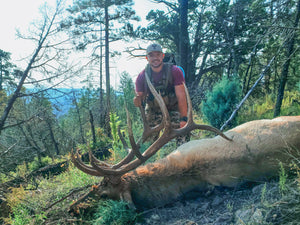 AWKWARD BUGLE...
Day 1&2:
Learning the elk- For the better part of these two days, scouting took place. We were trying to pattern and see what kind of activity the elk had after the first hunt had just concluded. Rut activity was extremely limited, you can hear a few bugles off in the distance, but would quickly fade as the sun rose. During the day, we were able to glass up a bedded 6×6 with two cows. They were a long way out and proceeded to stay put as evening was approaching. As night approaches, we start to hear bugles. I look at my OnX map and see that they are calling from a different unit on the border of where we are hunting. We were using our calf calls to hopefully get the cows to where we were in hopes the bull would follow them over the unit border. As evening ended on day 2, we made our way back to the truck. I heard a very different and distinctive bugle. In my head, all I can picture is a big bull.
Day 3:
Excitement Building- On the morning of day 3 we were able to glass up a small 5×5 across the canyon. We decided to make a move to try and get closer to see if he was with a bigger bull. As we make our way to where we last seen him, I hear that very different bugle once more. I split up from my hunting partner as he continues his stalk. I go in quiet, no calls, no noise, just trying to see what I can see. As I make my way through the trees, I spot a bull at 90 yards pushing four cows. The bull comes out, I look through my Maven Binoculars and see his huge back thirds. I tell myself, "Oh my god, I want this bull". 60 yards reads on the range finder, and the cows bust. I played the wind right, stayed in the shadows, I knew it was not because of me. In the distance, I hear a sound that I know, a Hoochie Momma call from Primos. Just like that they were gone. I was able to follow the bull by the bugles between him and another bull in the distance. I knew a fight was about to take place as the bull entered a different territory. I am now 150 yards away from the elk, and I hear something that I have never been able to witness. It sounded as if hundreds of trees were getting torn down, something I will never forget! Two world class bulls, going toe to toe, fighting for the territory and the 14 cows they have between each other. Sprinting down the mountain while they were occupied, I was hoping to get into shooting distance. As I was approaching the fight they stopped, and once again the bull I was after was 27 yards from me, tongue hanging out, breathing heavily and heading right to me. I had no shot, he was moving quick, I had to stay still and let him pass. I was in complete awe, the size of his rack was something I have only ever seen in magazines, or social media. The body on the other hand was just as big, looking like a 400-pound lineman getting ready to eat your lunch. Hoping for another opportunity, we backed out and waited till the next morning. Thinking back on the whole situation that just went down, I was kicking myself in the face for not taking a shot on the biggest bull I have seen in my entire hunting career.
Day 4:
The Reward- We started climbing the mountain at 5:30a.m. We wanted to get as high as possible so we can listen to distant bugles and try to locate them. Our first bugle came in at 5:50a.m, from then on, the mountains ignited in a bugling frenzy. We heard about 9 or 10 different bugles, that is when I heard the "awkward bugle bull". I was excited that he was still in the area I left him in the night before. My brother and I follow his bugle to try and relocate him to get an opportunity. As we close in, we are met by another bugle in which the bull responds to. I tell my brother, "We need to move light and fast, as they are about to have another fight". We drop our packs 175 yards away and start moving as quickly as we can to where we believe the bull is. Raking can be heard in the short distance; we stop and can make out the epic rack demolishing trees. I range him at 45 yards away. Moving slowly, I step on a stick the moment he raises his head. I think to myself he is about to bust out of here, just as he was getting ready to take a step the other bull bugles. He goes straight back to raking the trees, I take 3 more steps, range, he is at 40 yards. At 7:45 a.m. on September 19, 2020 I drew my bow back, control my breathing, settle my 40-yard pin right behind the shoulder, pull the trigger on my release, and hear a loud "thud" accompanied with a donkey kick. It felt like a great shot and I knew I had hit him I just did not know where. After the first shot he runs to the top of the mountain, looks down at us and offers a shot at 43 yards. I take it and hit a small branch I did not see, I hit the ground right under him. I can see blood from the first shot and knew this bull would not be able to go far. Seeing the bull looking down on us is an image I will never forget, the most beautiful image you could ever imagine. I look at my 17-year-old brothers face, and we are both in disbelief on what just happened. We hear the bull crash and take his last breaths. We go to the area of the first shot, my brother finds 8 inches of my arrow with the other 19 inches still inside the bull. We find blood. We wait an hour, find our packs and start the search. The bull only made it 85 yards from where I arrowed him. Seeing the "awkward bugle bull" up close and personal for the first time, I was at a loss for words. The only thing I can make come out of my mouth was a loud "WOOOOOOOO". As I put my hands on him, I say a prayer to the man upstairs on gifting me this magnificent bull, we are gifted with so many memories and most importantly, meat in the freezer to feed my family.
The Pack Out- The pack out was quite a chore, but the most rewarding feat I have ever accomplished. With the help of my Brother Jerick, Father David, Cousins, Nathan and Damarion, good friends Tim and Tom, the pack out was that much lighter. It was worth every minute, so many memories were made with them on the hike in and out. After 5 years of not having an opportunity to hunt elk, this could not have had a better outcome. The best bull I have ever harvested, and the most rewarding. So much countless hours of shooting, bow tuning, arrow tuning, hiking, scouting, being out from sun-up to sun-down. Truly blessed with an incredible hunt, family, friends, and the good outdoors.
About the Author: My name is Joshua Urban I am 24 years old and am from Bernalillo, New Mexico. I am an avid outdoorsman and fisherman and love to spend most of my time in the outdoors. I am a full-time firefighter with the Los Alamos County Fire Department in New Mexico. I recently started my own exterminating company, Bosque Pest Control, LLC. My friend Johnathan Borg and I have also started our own clothing company, Triumph Outdoors Apparel, LLC. Volunteered with the New Mexico Wildlife Federation to take a youth hunter on his very first deer hunt with a tag that was gifted to the federation for a youth or veteran hunter from the New Mexico Game and Fish
---