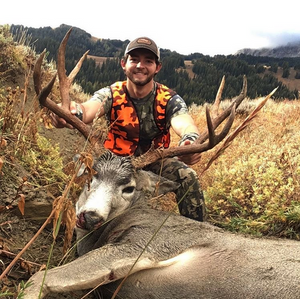 THE HIGHS AND LOWS... by Gentry Houghton
PACKING IN ALONE
16 miles with a pack like this will wear you out! It's always fun exploring new country. Packing in alone can be a little eerie especially in grizzly country. I only had one encounter. I couldn't get the big buck to come out of the trees but his little sidekick posed for a few pictures. Hopefully I'll find him again in two weeks with a rifle this time!
BUCKED OFF TWICE
The last few days have been the toughest hunt I've ever been on! After being rained on every day, 3 inches of snow last night, and getting bucked off my horse twice. It's been quite the rodeo. We packed up our muddy camp and are trying a new area. Hoping one last hurrah in the morning will pay off for us!!
I WENT BY MYSELF
Talk about the highs and lows of hunting! After getting skunked last week I decided to go back up one last time. No one could come so I went by myself.
After rain and hail the whole trip I got sick of it I packed up camp and took one last look at the hillside. I happened to spot this buck and was able to sneak to 308 yards.
It sucks hunting alone but packing a full deer and camp 7 miles out is even worse! So glad this trip paid off. He is 28.5″ wide and scores 171″
SOLO BACKCOUNTRY
Since I was a little kid I have dreamed of taking this picture. I have always wanted to take a solo backcountry buck after reading about people like Cameron Hanes and others in magazines. Although I think it is a lot more fun to have someone with me, there is still something about the challenge of being alone that is enticing. I'm glad that I was finally able to make it happen!
GENTRY HOUGHTON
FOLLOW @THEREALGHOUGHT ON INSTAGRAM
---