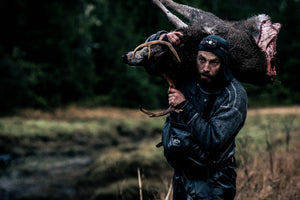 GRIT AND DETERMINATION... by Talon Gillis
I'm not a seasoned hunter and I don't have a lot of kill success under my belt, but I've hunted hard and learned a lot in the past three or so years. There is a very valuable wealth of knowledge that you can only truly gain from the life long experience as a seasoned hunter. What I lack in skill and experience, I definitely make up for with grit and determination. I have figured out that if I'm persistent enough, keep putting myself in places where animals hang out, things are bound to line up in my favor.
On this trip, that is exactly how it worked out. If you know anything about the climate on the northern British Columbia coast, you know that November is not the time of year to be getting in a canoe and paddling in the Pacific ocean to get to your hunting and camping spot, let alone set up a little tent and hunt hard for 3-4 days during a torrential rain storm.
Remember what I said in the beginning? What I lack in skill and experience, I make up for with grit and determination. Waking up nervous in my nice warm bed on the day I was to head out on the hunt, the house was shaking from a coastal storm. I definitely contemplated not going at all or taking the easier safer route, wait until it gets nice. Instead I shook my head, got up and said to myself – if I spend the bad weather day travelling, setting up camp, and scouting, then I have a better chance of getting into deer when the storm settles.
I launched the canoe in the dark and paddled out to my spot, I arrived just as it got light. Adventure in full effect on day one, I made camp, walked into the bush, and started hunting. The rain and sleet and noisy rain gear made it near impossible to walk around quietly, no chance of coming up on a deer. At the end of the day, soaking wet, I could have called it a day but I decided to wait out in an open area and do some deer calls in the hopes that I could trick a deer into walking out of the old growth forest. I was getting cold so I made the decision to put on my last bit of dry clothing knowing they would be fully drenched as evening fell. With no dry clothing left, it was a sacrifice to have a wet and cold night sleep in exchange for hunting the last two hours of daylight. Long story short, I shivered while I made lame deer calls for about an hour, but out of nowhere, I saw the unmistakable red-brown shimmer of antlers and a face looking straight at me about a hundred yards out. I was spotted and in one slow yet very smooth move, I grabbed the gun, put a round in the chamber, sighted up, and without hesitation pulled the trigger dropping the deer. In that moment you could have easily made the mistake of thinking I had a lifetime of hunting experience. There was no hesitation or mistakes made on my part. In reality, I spent so much time trying to make opportunities like this happen, the amount of days alone were bound to stack up in my favor. I gritted through unpleasant weather and used every ounce of try I had in me and it payed off. I did my best to clean the deer and hang it in a tree. After a very long, wet day, I crawled into my sleeping bag soaking wet still shivering, with a grin on my face. Though that smile quickly tuned to a grimace as the cold seeped through the wool and hit my bones, I fell asleep knowing the sacrifice, grit and determination was worth it.
Talon Gillis.  Website is https://talongillis.com 
---
1 comment