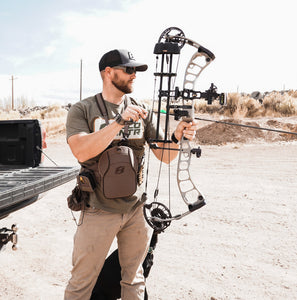 The "Off Season"
In this post we will be breaking down some of the items, past times, and ways we at SOLOHNTR like to  that time when there's very little to no hunting out there. We've put together a couple of things to think about during that down time when the game is in recovery mode. 
             1. Equipment Check
Probably the most important aspect in the off season is an equipment check. Whether that is purchasing a new piece to your arsenal or just cleaning and updating existing gear. Many manufactured gear companies will release their new products during this time and for some of us gear junkies that may be the time to purchase something you have been holding out on. It also makes sense to put together a wish-list for the upcoming season. I like to look at what hunts I want to do in the spring or fall and plan accordingly. For instance, I will be hunting a spring bear in MT and Turkey for sure. Spring bear can be a crazy time to be in the woods with weather & terrain so I will need to plan accordingly. Tim has a aoudad and inland grizzly hunt coming up and he knows what equipment will be required to be successful on those hunts. There is no guarantee while hunting but I am a firm believer in getting as much of an edge as possible for success. That may not always be a successful harvest but more so perhaps a successful trip. It really depends on you and your goals. 
         2. Dialing in the Bow or Gun
This may fall into the equipment check. I know so many guys that pull their gun or bow out right before the deer hunt every year and "maybe" make sure it's dialed in. That saying "practice makes perfect", I'd like to change that to practice makes you proficient. There is no perfect in shooting, way to many variables but you can stay on top of your game an become an all around better shooter if you practice. It can get pricey with ammo but definitely worth it to know you dialed in as well as can be when it comes down to crunch time. The bow can be an entirely different beast all together. Shooting for me is like therapy so I get a little cranky if I don't shoot 4-5 times a week. Not every session needs to be out to 100 yards or what have you but at least getting those reps in keeps me on my game. 
        3. Getting in better shape
I am not saying you need to be doing 100 milers to hunt deer in the mountains like some of these other guys. However, hunting in most cases is physical and therefore it does help if you have the stamina to go the distance and get to that "next" ridge. Some of the nastiest terrain I have ever hunted has been chasing Mountain goats in UT or Black Bear in MT. In order to achieve success those hunts are extremely physical. Elk like to hangout in some of the deepest darkest canyons there is, not to mention for them to go up and down a mountain is like a hop and skip for them. So keeping up with those animals can be very challenging and physical. You don't need to be a workout junkie or CrossFit athlete but don't let it be the reason you can't go to that spot no-one else is. 
      4. Planning your year
Hunting is not cheap, unless all you want to do every year is get an in your state deer/turkey tag and occasionally put in for a limited draw permit. If that's you then you are probably not reading this. If you are like me and wan to hunt as much as possible then out of state hunting is where we have to turn for multiple opportunities. Unfortunately today OTC hunts are becoming more scarce every year, although there are still some great hunts out there that aren't too spendy and good chances of success. There are some great hunt planners out there that can aid in these efforts. I usually write down the list of animals that I would like to hunt and start the planning/saving process. If money isn't an issue than put in for every limited draw unit you can and then sit back an wait. For the rest of us we can pick and choose the game and states we'd like to go after. This time of year is draw season anyway so spending an extra hour every once in a while could make or break your season. 
Conclusion
When it comes to the down time there is plenty to do, it just depends on you. I enjoy the preparation, gear testing, and learning new ways I can get better at my craft. Please comment below on some of the things you like to do in the off season. 
---
2 comments